Today, the name William Hill is synonymous with quality and excellence in online gaming, gambling and poker. They are one of the best known online casinos and online poker rooms and are internationally respected, especially among UK poker players.
Bonuses:
Spend £10
Get a £70 Bonus
This site is less about graphics and frills, and more about their unmatched customer service, superb software and fantastic tournament events. If you haven't had a taste of William Hill, you're missing out on some of the very best online poker out there.
Software & Graphics
WilliamHill.com is part of the ipoker network, which means that the software is rich in features and provides for an extremely reliable gaming experience. This software supports multiple languages, multiple currencies and is now Mac compatible. The lobby is well organized and it is easy to find a seat. You can play as many as eight tables simultaneously, and will never experience any lags or downtime. Note-taking at the table about other players works very nicely as do the hand histories.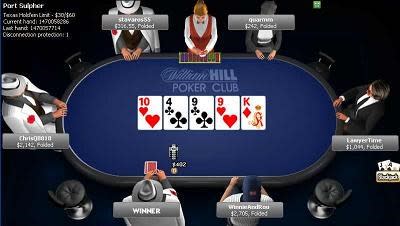 Some of the 3D graphics appear a bit simplistic, but they work together well. Everything is clear, and you can easily read the board. The animations and sounds are good, with plenty of ways to customize them. The tables are much cleaner and sharper overall than those found on some of the other sites which run on the same software.
Games
WilliamHill.com does offer a good variety of games with varying levels and limits. These include Texas Hold'em, Omaha, Omaha Hi Lo, 7-Card Stud, 7-Card Stud Hi Lo, and 5-Card Stud. There is a solid amount of player traffic to the site, with over 10,000 cash ring game players and 55,000 tournament players during peak hours.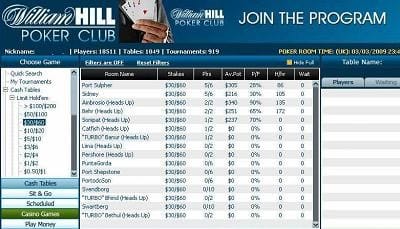 Support
William Hill offers friendly, dedicated and knowledgeable support through several options. The live chat feature is very useful and easy to use. There are also email and phone support options, including a fax line (for when documents might be requested). Response time, even with email, is impressively fast.
Tournaments
William Hill Poker offers a huge number of guaranteed prize pool tournament events, as well as satellite and other qualifiers for top of the line poker events. Prize pools range all the way from about $600 up to the Sunday $250,000 guaranteed prize pool event. There is also a Friday $150,000 guaranteed $100 re-buy tourney and a Saturday $50,000 guaranteed event.
Qualifiers for big events exist at all levels, although the fields are usually big and competition is stiff. However, you can play your way into events like the World Series of Poker and the European Poker Tour. The buy-ins for these generally starts about $1 and go all the way up to a few hundred. However, nearly all of these main events can be entered through one of William Hill's online qualifiers.
The sit-n-go tournaments are another nice addition to the lineup at William Hill. These are just as active as the other tournaments, but the real gems here are the jackpot SnG's. For example, in the Fort Knox SnG, players who have six consecutive wins have the opportunity to hit for $50,000. These events provide great value, with buy-ins ranging from $2 to $50.
Details to Note
There are great many loose and wild players, probably coming over from the casino or sports book section of the site. We recommend skilled players to focus on be the lower level no limit Texas Hold'em tables. Viewed flop percentages tend to be in the 30-40% range, but from time to time, you can also see these percentages in the 50's, offering great chances for the skilled player to profit.
Deposit/Withdrawal Options
There are many deposit options available here, including all of the usual debit cards, as well as some popular ewallet services like PayPal. Almost as many withdrawal options are available, with some national restrictions.
Payout Policy
William Hill has become known for very fast and smooth payouts.
Due to the current regulations placed on poker sites, you may be requested to verify your identity by providing some basic documentation. It is more likely that you will be required to go through this documentation process if using debit cards to deposit and withdraw funds. However, if you need to verify your identity, it is a simple standard process.
Pros & Cons
There's a plethora of positives with William Hill Poker. There is a huge amount of guaranteed money in their online poker tournaments, plus satellites for almost every major event you could ever wish to be a part of. You will also find some of the loosest play and players in the world on this site. A top player can most certainly make a lot of money here.
Of course there is always room for improvement and with William Hill we think graphics are the place to start. The graphics are workable, but not nearly as up to date as many other sites. Also, as it is largely a UK-based site, it could really take off it there was a larger international member base.