Looking for a lucky strike? You're sure to find your four-leaf clover at Paddy Power Poker, a fun and safe online poker room based in Ireland and serving all UK and European poker players! Their excellent software system along with their wide selection of tournaments, cash games and VIP bonuses will lead you to your pot of gold!
Bonuses:
Bet £20, Get £50
Terms & Conditions
New Paddy Power Poker customers only. Deposit and Spend €20 and get €50 in bonuses. Bonus is released in increments of €10 over customers first 5 days. €20 must be spent on tournaments, twister and SitNGos only to receive bonus. Full T&Cs apply.
Software & Graphics:
The software download is a little over 5MB, which is about average. If you happened to be playing on a Mac, you can optionally choose the flash version, which allows you to play directly from your browser.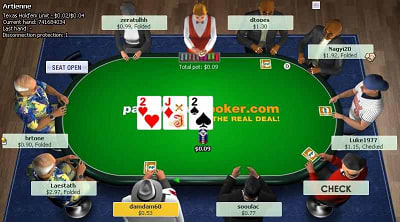 Since Paddy Power Poker is a member of the ipoker network, they are using very solid and reliable Playtech software. This is very functional and the graphics themselves are decent.
The software itself also provides support for playing up to 16 hands or tables at the same time. Settings can be configured for full-screen tables, playing in a window or even mini tables.
Games:
Most of the more popular poker games are offered, including Texas holdem, Omaha hi and hi-lo, 7-card Stud, and even 5-card stud. These games all seem to be fairly well visited, especially the holdem tables, with over 10,000 players during peak hours. The other games' volume only makes up a fraction of that.
As a general rule, the games with the best combination of popularity, unskilled players and loose play are probably the low to medium level holdem tables. Occassionally, you will find some decent opportunities in the stud games. Just be careful for the occasional shark swimming around in these waters, especially at the higher limits (and in the less popular games).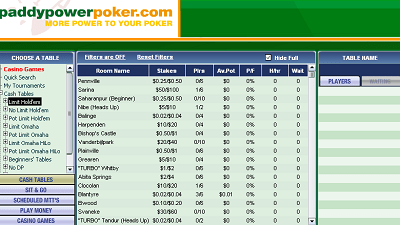 Support:
PaddyPowerPoker.com offers good support. They have a 24/7 phone line, which is actually answered by friendly and helpful staff. The answers provided are also fairly knowledgeable. Email support is also available, with a generally fast turn around time to get your answers or issue resolved.
The website itself also has a comprehensive frequently asked question section. Checking this first will most likely answer any general question you may have.
Tournaments:
The site offers many tournaments, with buy ins ranging from as little as $1 all the way up to several hundred dollars. Some of these include qualifiers for live poker events in the UK and around the world. Some of the tournaments offered include prize pools of $1 Million.
There are also a number of sit-n-go tournaments. You may even surprise yourself by hitting a $50,000 jackpot after winning just a couple of these SNG's in a row. These jackpot SNG's are a great additional bonus to an already solid poker site.
The bottom line is the PaddyPowerPoker website offers over $10 Million in guaranteed prize pools every month.
Details to Note:
This site is populated mainly with beginning and entry level players. However, there are still a few highly skilled professionals who troll around here from time to time, especially in the higher limit holdem and Omaha games.
The VIP program is one of the best offered. There are six tiered levels. Each subsequently higher level allows players to accumulate points faster and faster. This can also lead to monthly cash bonuses of up to $600, or free merchandise (which can be redeemed with your points).
There are also some excellent safety and security features in place. The high level encryption and randomization and card shuffling processes are checked regularly by independent auditors.
Another really cool special feature is their poker school. This includes tutorials, lessons and hand ranking charts and information.
Deposit/Withdrawal Options:
There are many deposit methods available here. Some of these include Visa Debit, MasterCard Debit, bank transfer, cheques, Neteller, PayPal, Skrill and Paysafecard. You can even deposit by cheque or cash via the Paddy Power shop network.
Withdrawals are generally made in the same way as your initial deposit, unless, of course, your card prohibits this. There are also daily limits. Maximum daily withdrawal is 2500 Euros or 2000 GBP. It is possible to overcome these limits, but this will require contact staff and management.
Payout Policy:
The payout policy of Paddy Power Poker is standard for most sites. You can withdraw money up to the daily limits. However, you may be required to submit further documentation. These include copies of a driver license or identity card, a passport, and possibly also a recent utility bill.
Funds may also be held for 72 hours. This is a standard procedure, done for your protection to ensure there has been no collusive or fraudulent play.
Pros & Cons:
The main feature of the site is that there is always a decent amount of action. The tournaments and bonuses are very good, as well. It appears that you can satisfy whatever your poker appetite craves. Find a nice qualifier for the Irish Winter Festival or a WSOP event. No problem; they are available. Maybe you are searching for some low entry fee SNG's or free roll tourneys in an effort to build your bankroll? No problem. Whether you are looking for some fish to fry or to try your hand against some professional competition, you can find that here as well.
The main down side of playing here is just the marketing efforts of the site itself. While this is an excellent destination for your poker hobby, the site itself is relatively unknown outside of Ireland. Hopefully, the marketing effort will be made, because this site will have a large appeal throughout the rest of the UK and even onto the Continent.